Plenty of cars and plenty of hops — that was the essence of JCLF's fall fundraiser, Stouts & Stories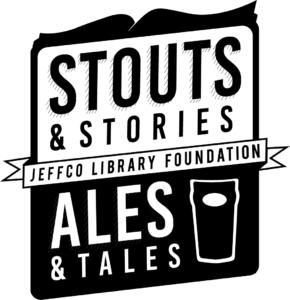 /Ales & Tales. This benefit was the kick-off to a six-week, go-on-your-own, county-wide Jeffco craft beer tour, and it was held Thursday, September 27, from 5 to 9 p.m. at the colorful Lamar Street Center in Arvada.
"This event was hosted by Jefferson County Public Library in 2017, and it received a tremendous response from the community," said Jo Schantz, executive director of JCLF. "The Foundation decided to turn this into a fundraiser and partner with local businesses to help raise money for Library programs." Each year, the Foundation raises tens of thousands of dollars to help support the Library's STEM/STEAM initiatives, early childhood literacy and the hugely popular Summer Reading program.
Nearly 150 guests attended the event, which featured two tantalizing food trucks, games of skill (such as giant beer pong and ladder ball), a fun photo booth (complete with zany props), plus gallons of beer samples from 11 local craft brewers. Tickets were $15 for general admission, and those who purchased VIP tickets (at $25 each) were able to visit the Steel Affairs showroom to drool over rare and collectible cars, including classic Lamborghinis.
"It was such a fun event!" said Allison Lausten, JCLF's bookkeeper, who attended the event with her husband, Matt. "We really enjoyed tasting all the different craft brews, plus we listened to great live music and played some of the super-sized games."
Our silver-voiced emcee and Board member Neal Browne was in charge of announcements, and prize drawings were held throughout the evening, hosted by Mel Rutledge and Jim Berry, two radio personalities from media sponsor KOOL 105. In addition, a pair of local brewers were tapped on as featured speakers for "brew talks" where they discussed craft brewing techniques. Toe-tapping live music was provided by an energetic band appropriately named Half Pint and the Growlers.
The event also served as the launching pad for a six-week, self-guided craft beer tour throughout the county available from September 28 through November 11. Free beer tour "passports" w
ere given to kick-off event attendees, and are also available for free at any Jefferson County Public Library or at any of four Jefferson County-based Westerra Credit Union locations. Patrons who visit the breweries listed in the passports receive a stamp for enjoying the breweries' special offers. Stamped passports can then be redeemed for prizes at the four Westerra Credit Union branch locations in Jeffco.
Participating craft beer tour breweries include Brewery Rickoli, Colorado Plus Brew Pub, El Rancho Brewing, Evergreen Tap House, Golden City Brewery, Grand Lake Brewing Tavern, Ironworks Brewery & Pub, Joyride Brewing, Landlocked Ales, New Image Brewing Company, Someplace Else Brewery and Westfax Brewing Company.
Sponsors of the kick-off event and craft beer tour include Westerra Credit Union, High Point Financial Group, LLC, Cat Care Society, Picocyl, West + Main Homes, AMI Mechanical, Guaranty Bank, Sally Reed, Nocturnal Tattoo, the Taurus Fund, and Sw33t.com Design. KOOL 105 and Colorado Community Media are our event media sponsors.
Special thanks go to event planner Kim Hightower for creating a wonderful evening and a wonderful experience for our guests!
We are grateful to all the beer lovers and book lovers who joined us for this year's Stouts & Stories/Ales & Tales!
https://jeffclf.org/wp-content/uploads/2022/02/FN_logo_2022_Website_final_295X64.png
0
0
Jo Schantz
https://jeffclf.org/wp-content/uploads/2022/02/FN_logo_2022_Website_final_295X64.png
Jo Schantz
2018-10-15 14:01:56
2018-10-15 14:35:07
Stouts & Stories/Ales & Tales -- a beer tasting bonanza!