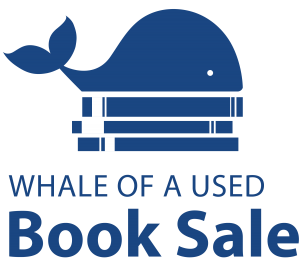 Get your bags ready to snatch up some bargains at the Jefferson County Fairgrounds.
The 2016 Fall Whale of a Used Book Sale will soon be upon us, so mark your calendars!
Preview Night will be Thursday, October 20, from 6 p.m. to 8 p.m. at the Jefferson County Fairgrounds.  Only Friends can attend Preview Night and get first pick of the books, so if you're not a Friend of JCPL, you can sign up here.
We'll open early on Friday, October 21, for those who want to beat the crowds. Doors will open at 8 a.m. and, for a $10 fee, eager shoppers can enter early. Doors will open to the public on Friday at 9 a.m., which is free of charge. The sale is open until 5 p.m.
Saturday, October 22, is half-price day for employees of Jefferson County and Friends of the Library. Don't forget your IDs, as you can't get this exclusive deal without them! The sale is open from 9 a.m. – 5 p.m. on Saturday.
Sunday, October 23, is bag day. A bag of books starts at just $6. What a deal! Doors open at 11 a.m. on Sunday and close at 3 p.m.
Of course, Whale Sales don't happen without the hard work of our dedicated volunteers. Want to join our awesome volunteers? You can sign up to volunteer at the Fall Whale Sale here.
Chick-fil-A
Chipotle
City of Lakewood
Golden Real Estate