Shred-A-Thon and Book Drive | August 13 | Bank of Colorado Lakewood
Protect your private information, get rid of the paper clutter AND donate for literacy Saturday, August 13 from 9AM – Noon!  Altitude Docushred will be providing secure shredding and we'll be collecting used books, CDs, DVDs and LPs for resale at Bank of Colorado | 275 Union Blvd. | Lakewood.
Suggested donation for shredding: $10 for six boxes of documents.
Funds raised help us support literacy programs at Jefferson County Public Library.
Donate Your Books, CDs, DVDs & LPs!
Donations of gently used books, CDs, DVDs and LPs accepted on Mondays and Tuesdays from 9AM to 4PM.  Learn more.
  Shop Whale's Tale Books & Gifts
Sunday-Friday: Noon – 6 PM  |   Saturday: 11 AM – 6 PM


Located next to Dick's Sporting Goods in Neighborhood 5.  Gently used books, CDs, LPs, DVDs, unique new gifts, jewelry, accessories, gift baskets and more for sale at discounted prices. Take a virtual tour of our store or click here to learn more.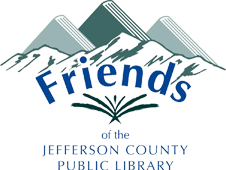 Are you a friend of Jefferson County Public Library (JCPL)?
For decades, the Friends have been advocates, volunteers, and supporters of JCPL.  Our members believe that our Library is the heart of our community and that each Friend "multiplies the good" work of the Library.  We raise more than $100,000 annually in support of JCPL through our Whale of a Used Book Sales, and Whale's Tale/Baby Whale bookstores.  Become a Friend today. Follow us on Facebook, Twitter and Instagram @JeffcoFriends