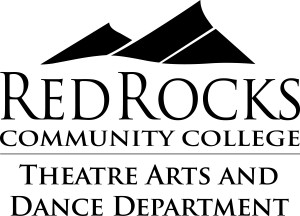 Could you summarize A Christmas Carol in five minutes? In two? Probably, and you're not alone. Most of us could easily summarize A Christmas Carol, and yet not recall the last time we read the book or saw the movie. It's iconic. It celebrates the spirit of generosity and the power of redemption.
But how could we put a fresh spin on A Christmas Carol for our Read Like the Dickens benefit? Well, that's where Red Rocks Community College's Theatre Arts & Dance Department comes in. We met with David-Matthew Barnes, the Program Director, and Kelli Krieschel, the program's costuming maven, and asked just that question: How do we put a modern edge on a classic? What they came up with is amazing.
A Christmas Carol in Six—No Five Parts
First, A Christmas Carol in Six—No Five Parts, written by Kelli Krieschel, is about fifteen minutes long, and yet, tells the whole story. Second, the language is modern and colloquial. Third, the audience is encouraged to participate in the telling.
"My thinking about making it an abridged version to be presented as a short performance piece led to a vision of condensing scenes into humorous situations that most of us can relate with," explained Kelli. "And as a firm believer that laughter is good medicine, I am hoping that I can share this vision with everyone that is involved."
Transforming A Christmas Carol from something we all know and (generally) passively engage in, to something we share and collectively tell, this "abridged version" is something JCLF Executive Director Jo Schantz calls, "playful and fun."
More important to Schantz, however, is the generosity of RRCC. "I'm just honored that they wrote something especially for Read Like the Dickens and will perform it exclusively for our guests."
Catch this modern interpretation of a holiday classic only at Read Like the Dickens—A Rare & Novel Event, on November 12, at Baldoria on the Water. Tickets can be purchased here.
https://jeffclf.org/wp-content/uploads/2015/11/rrccMtnLogo-Theatre-Dance-Black.jpg
1512
2100
Jo Schantz
https://jeffclf.org/wp-content/uploads/2022/02/FN_logo_2022_Website_final_295X64.png
Jo Schantz
2015-11-06 16:42:44
2015-11-06 17:30:58
Read Like the Dickens—A Fresh Take on A Christmas Carol