There is an old Spanish proverb that states: "Life without a friend is like life without sun." That's why it tu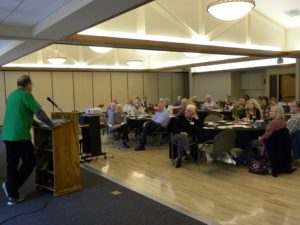 rned into a very "sunny day" when the Jefferson County Library Foundation (JCLF) brought together many of our Friends of Jefferson County Public Library for the Friends Annual Meeting held on Friday, February 2, at the Wheat Ridge Recreation Center in Wheat Ridge.
This year's event broke from the traditional breakfast occasion, and instead our Friends and guests enjoyed a buffet lunch with a Mexican theme — tacos and burritos, complete with an ample array of sauces and condiments prepared by our caterer, Bonfire Burritos.
The highlight of the luncheon was our keynote speaker, Scott Gibson, a Colorado author known for his amazing skills as a playwright, as well as for the very moving and sensitive novels he writes. Many of our guests were already familiar with Scott's books, with titles such as: Stopping by Earth; Standing Outside of Life; and his latest work entitled Treading Deep Water.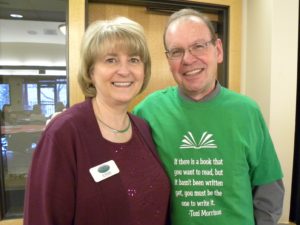 As Scott shared with us, he is a Colorado native, and he's lived from one end of the state to the other, starting out in the southwestern corner in the small town of Pagosa Springs followed by stays in Leadville, Sterling and Greeley. He now has homes in Evergreen and Grand Lake, and most of these places have figured into one of more of his popular books. As a special tribute to JCLF and our Friends, Scott donated back a portion of his book sales that day to our nonprofit organization, helping us continue on as we support Jefferson County Public Library programs, events and activities.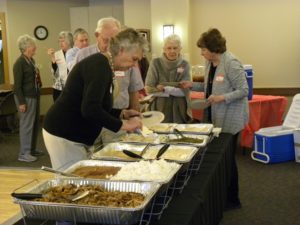 We were happy to celebrate another year with our wonderful Friends of the Library, a membership and support group that assists JCLF in fundraising efforts, voluntarism and advocacy on behalf of Jefferson County Public Library.
If you are not yet a member of the Friends of Jefferson County Public Library, you can become a member for as little as $15 per year. If you or your family would like to join, please visit the Friends section of our website to sign up online, or call us at 303-403-5075 for more information.
https://jeffclf.org/wp-content/uploads/2022/02/FN_logo_2022_Website_final_295X64.png
0
0
Jo Schantz
https://jeffclf.org/wp-content/uploads/2022/02/FN_logo_2022_Website_final_295X64.png
Jo Schantz
2018-02-16 10:17:09
2018-02-16 10:17:09
Our 2018 Friends Annual Meeting